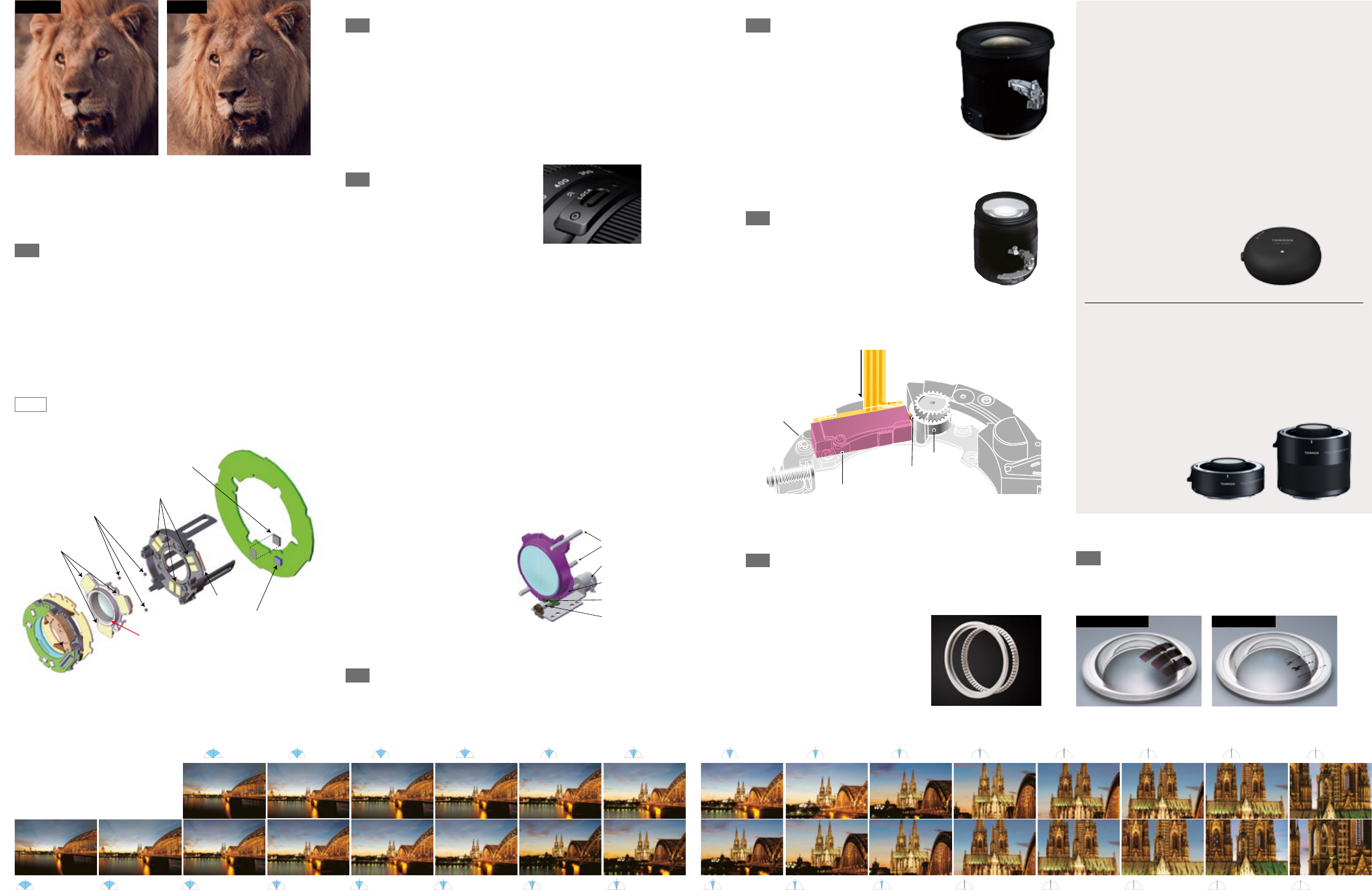 6
Signal
Mechanical pressure
generation
Piezo electronic
element
Metal tip
Rotor
Without uorine coating
Internal focusing - Many practical advantages
IF
Internal focusing has a range of advantages for
photographers: The lens is simpler to use because the extension
length does not change when focusing. The lens lter ring does not
turn with the lens when focusing, which makes it easier to take
photos with polarisation and graduated lters. The shortest focusing
distance over the entire focus area is signicantly lower. Also, loss
of light at the edges of the image (vignetting) and focus-related
image defects are minimised.
Zoom-lock mechanism
ZL
developed by Tamron stops the lens barrel
from extending by itself when it is not
being used. The lens is protected against
damage and can still be attached quickly.
Multiple-cam mechanism - a stable and reliable chassis
for zoom lenses
To make our compact, high-performance zoom lenses, we had to
develop a lens chassis that allowed the barrel to extend evenly and
smoothly. The Multiple-Cam mechanism allows several precision
curves to be worked into a cylindrical surface. The mechanism
allows very compact measurements for wide-angle lenses and
precise extension of telephoto lenses.
Integrated Focus-Cam - Optimum Internal Focusing
The Integrated Focus-Cam System from Tamron synchronises the
internal focusing movements with the Multiple-Cam mechanism.
It helps to coordinate the smooth and precise positioning of all of
the internal components with the external elements for zoom and
focusing.
Step motor - perfect for videos
The step motor enables ne control
over its rotation, as you might need,
for example, for lming videos. This
focusing drive works very quickly
and quietly by extending without
transmission gearing.
Well-protected against splashing water
MR
"Moisture resistant"means that the lens is protected against
penetration by splashing water. This is mainly visible in the seal on
the ne rubber bead on the bayonet mount.
TAP-in Console –
Individual settings for your Tamron lens
Photographers can use the TAP-in Console to congure
Tamron's new SP Series for their own needs. The accessory
lets them update rmware themselves using a computer
for the rst time, as well as adopting other congurations.
Previously, this could only be done on-location at a Tamron
Customer Service Centre. Depending on the lens, the
individually congurable parameters include: Focus adjustment,
setting the focus limiter, optimisation of the manual focus
function and calibration of the VC image stabiliser.
The TAP-in Console can be used with all lenses in the
new SP Series (F012, F013, F016, F017, A022 and A025).
Recently added and fully compatible is the new 10-24mm
F/3.5-4.5 Di II VC HLD.
Download the software here:
http://www.tamron.co.jp/
software/en/tapin/
Two exclusive tele converters (1.4x and 2.0x)
These accessories make it easy to expand the versatility of the
new SP 150-600mm F/5-6.3 Di VC USD G2 (Model A022)
ultra-telephoto zoom lens and the new SP 70-200mm F/2.8
Di VC USD G2 (Model A025) telephoto zoom lens. TELE
CONVERTER 1.4x (Model TC-X14) increases the focal length by
a factor of 1.4x, while TELE CONVERTER
2.0x (Model TC-X20) doubles the focal
length.
Piezo drive - fast and compact AF motor
PZD
Tamron's Piezo Drive (PZD) ultrasonic
auto-focus motor lets us build an ultra-compact,
high-performance lens. The abbreviation PZD
can usually be found in the handy and simple
Megazoom lenses, which cover an extraordinar
-
ily wide range of focal lengths. The motors are
smaller and also benet from fast auto-focus,
high precision and almost complete lack
of running noise.
HLD meets highly precise AF
HLD
With the new 10-24mm F/3.5-4.5
Di II VC HLD, Tamron introduces the HLD
(High/Low torque-modulated Drive) AF drive
system. The excellent driving power of the
all-new HLD enables stable and precise
focusing, even with the large focusing lens
elements used on Model B023. What's
more, the Full-time Manual Focus override
allows you to make ne adjustments –
without having to switch from AF to MF
mode.
The ultimate in image stabilisation, by Tamron
VC
The VC (vibration compensation) mechanism developed
by Tamron balances unwanted movement in diagonal, horizontal
and vertical directions. The optical image stabilisation is
controlled by highly-sensitive gyro sensors. The VC lens group
utilises low-friction ball bearings, making the construction
simple, effective and robust. Thanks to the VC mechanism, the
photographer gains up to 4.5 f-stops when shooting by hand
and gets an extremely stable viewnder picture. Even in difcult
photographic situations, you can focus all of your attention on
the creative process.
SONY*
For a Sony mount without a VC image stabiliser, because
Sony cameras already have an integrated image stabiliser.
16mm
(equivalent to
25mm*)
10mm
(equivalent to 16mm*)
18mm
(equivalent to
28mm*)
24mm
(equivalent to 37mm*)
28mm
(equivalent to 43mm*)
35mm
(equivalent to 54mm*)
50mm
(equivalent to 78mm*)
70mm
(equivalent to 109mm*)
90mm
(equivalent to 140mm*)
150mm
(equivalent to 233mm*)
200mm
(
equivalent
to 310mm*)
270mm
(
equivalent
to 419mm*)
300mm
(
equivalent
to 465mm*)
600mm
(
equivalent
to 930mm*)
30mm
(equivalent to 47mm*)
45mm
(equivalent to 70mm*)
15mm
30mm
24mm
35mm
50mm
70mm
90mm
150mm
200mm
270mm
300mm
600mm
28mm
45mm
Top row: Full-frame format
Bottom row: APS-C format (crop factor 1.55)
*equivalent full-frame format
Structure of the VC unit in model 16-300mm VC PZD
The PZD ultrasonic
motor is located in
the rear of the lens,
directly in front of
the bayonet mount.
The VC image stabiliser suppresses the effects of camera movement.
Both pictures were taken under the same conditions.
VC - ONVC - OFF
Fluorine coating
FLR
Fluorine coating was developed for optical systems in
industrial production. It provides long-term protection to the front
lens against oil and water. Any soiling won't stick to the surface -
you will be able to wipe it away easily.
Ultrasonic Silent Drive – High-performance focusing
USD
Ultrasonic Silent Drive (USD) auto-focus motors are used in
SP lenses. These high-performance drives convert ultrasonic waves
into torque, enabling highly precise, fast and almost silent focusing.
The principle uses a rotor and does not require a transmission
between the motor and the focus ring.
This means the photographer can
change the focus setting at any time
without having to press a switch. This
makes USD lenses well suited for fast-
moving and dynamic subjects, such as
in nature and sports photography.
With uorine coating
Step motor
Lens xture
Threaded nut
Threaded
spindle
Guide shaft
Gyro sensors
Bracket
Ceramic ball
Driving coils
VC element (compensation system)
Magnet
VC microcomputer
Focal length comparison
7